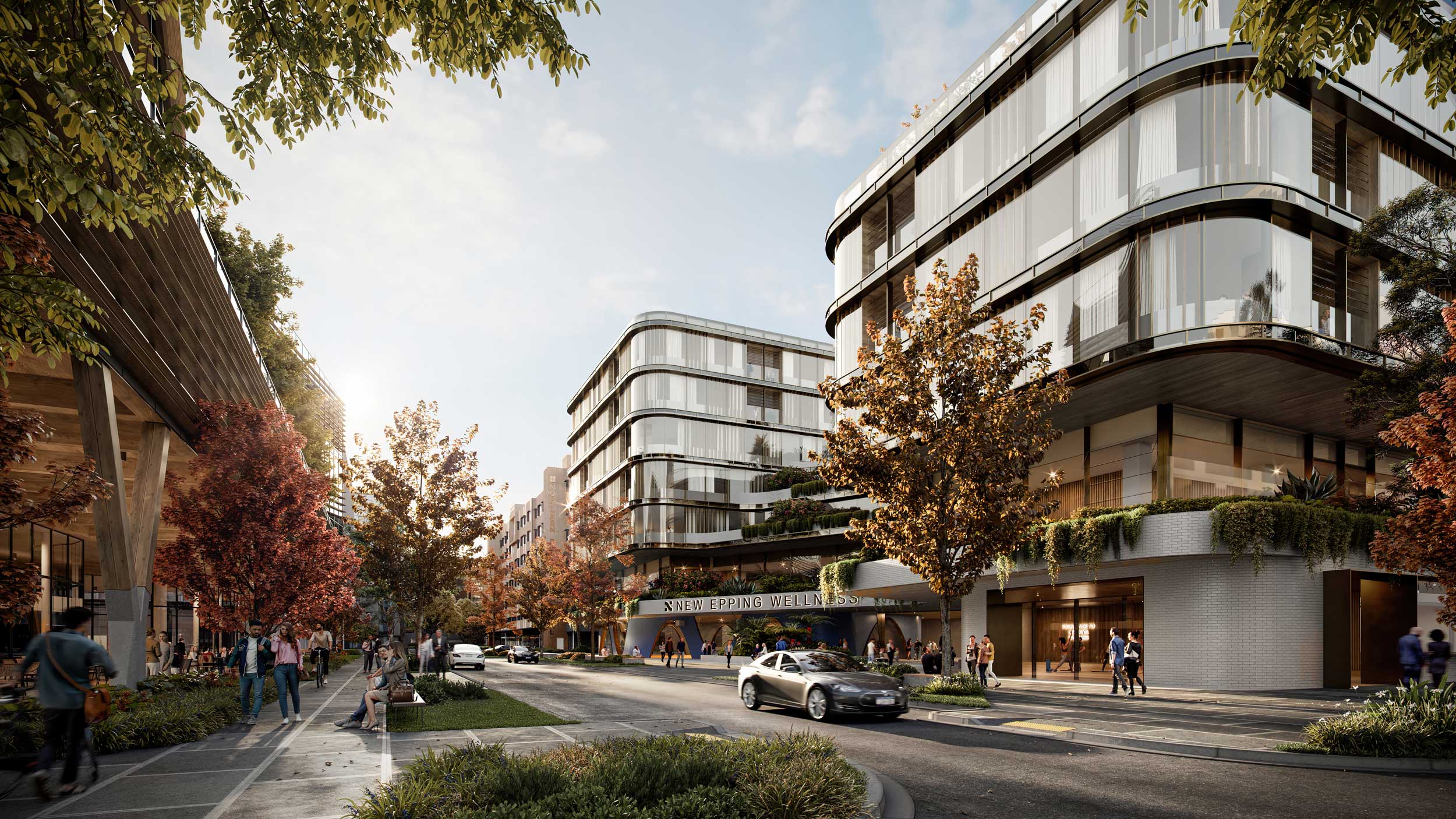 New Epping is a $2 billion mixed-use precinct that will transform a disused landfill and quarry site into a vibrant city within the suburbs.
In close collaboration with the City of Whittlesea, Riverlee is undertaking one of Australia's most ambitious urban renewal projects, rezoning a 51-hectare industrial site to mixed-use. Stage 1 of the development includes the new Northern Private Hospital, 151 affordable homes, along with retail and commercial end uses.
The new Northern Private Hospital, operated by Ramsay Healthcare, will deliver comprehensive medical, surgical, and mental health services, which are much needed to cater for the region's growing population – forecast to increase by 10 per cent annually over the next five years. Co-located adjacent to the Northern Hospital, the New Epping 7 hectare heath, wellness and knowledge precinct is the largest in the region.
Expressing Riverlee's commitment to people-centred design, New Epping will offer over 2,000 townhouses and apartments connected by green spaces, supported with community amenities including restaurants, cafes and retail spaces. The precinct's commercial offering will feature a business park and a collection of multi-level office complexes suitable for a diverse range of businesses.
The site's 11 hectare green spine, including a natural lake and a stretch of Edgars Creek will be regenerated, with parks and a 3.2 kilometre walking and running loop. Central to the site's evolution, these conservation efforts will protect existing natural ecosystems and wildlife.
Investing $1.2 billion of private capital to realise this project, New Epping demonstrates Riverlee's ongoing commitment to the region and our broader mission to deliver built environments that positively impact the wider community.
SECTOR
Commercial
Health
Mixed-Use
Residential
STATUS
Now Leasing
Under Construction
COLLABORATORS
City of Whittlesea
Billard Leece Partnership
MGS Architects
Tract Consultants
NH Architects
Roberts Day
Haven Home Safe
Ramsay Health Care
BREAKDOWN
51 hectare site area

LIVING & COMMERCIAL
2,000+ homes
200 child care places & 200 retirement living units
110,000sqm of commercial space

HEALTHCARE
Seven hectare health,
wellness & knowledge precinct
127-bed private hospital
200 aged care beds
Up to 10,000sqm of allied health

ENVIRONMENT
11 hectares of green space,
new parks, waterways
& protected habitats
Pedestrian & cycling trails
Rehabilitation of disused
quarry & landfill site